If you've been considering a whole-home humidifier to improve the air quality in your home, you're on the right track to improving your air quality and comfort. The air can become very dry in the home, especially during the winter when you rely more on your HVAC system. A humidifier addresses the balance by putting moisture back into the air.
What about whole-home humidifier installation costs? We give you the lowdown on how much these systems cost and choosing the right system for your home.
Homeowners in South Carolina will typically pay anywhere from $500 to $1,600 for whole-home humidifier installation.
This price range might seem quite wide, and there is a good reason for that:
In this article, we'll explore these factors and why they impact the cost of the system itself and installation.
Type of Humidifier
When it comes to choosing a whole-home humidifier, you have three different options available to you: steam, bypass, and fan-powered. Your choice will largely come down to your specific needs and budget. While each type has the same goal — to add moisture to your air — they do so differently.
Here we detail each type of humidifier from the least expensive to the most expensive and give you all the information you need to make an informed decision.
Bypass Humidifiers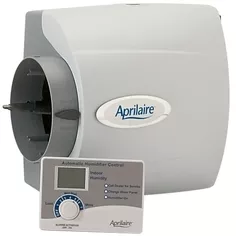 As the most affordable and least complicated humidifiers, bypass humidifiers are also the most popular type of whole-home system.
These systems are installed directly on your central heating and cooling system and mix the warm air from the heat duct with water from your plumbing system. This creates water vapor which is then distributed to every room in your home via the ductwork system. Because they rely on drawing warm air from your HVAC system, bypass humidifiers will only work when your HVAC system is running.
Is a bypass humidifier right for your home? Your HVAC and air quality professional can advise you and recommend the most suitable system.
Fan-Powered Humidifiers
Unlike bypass humidifiers that depend on your HVAC system to be running, fan-powered humidifiers use their own fan to push warm air over the water panel. As the warm air passes over the water panel, the air absorbs moisture which is then distributed around your home through your ductwork and vents.
These systems are less complicated than steam humidifiers but a level up from bypass humidifiers in terms of functionality and efficiency. This is reflected in their higher price point. Another point to note is that fan-powered systems need additional maintenance due to having more parts.
A fan-powered humidifier could be the best choice if you're looking for one that can run throughout the year without depending on your HVAC system.
Steam Humidifiers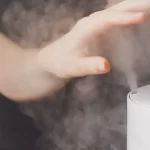 Steam humidifiers, the most complicated and expensive of the bunch, are also the most efficient and dependable. They are also the most natural way to deliver extra humidity into your home environment. Small electric heating elements inside the humidifier boil water until it vaporizes and distributes the steam through your air ducts.
Fast, efficient, and with no need for your HVAC system, steam humidifiers might cost more than bypass and fan-powered systems, but they will provide you with exceptional performance for many years.
Size of Humidifier
Choosing the right size humidifier for your home is very important. A system that is too small won't provide enough moisture in the air to make much of a difference. In contrast, a too-large system could put too much moisture into your air, causing another problem entirely.
Humidifiers aren't sized by the number of gallons of water they hold but rather by the number of gallons of moisture they can add to your home environment daily. This measurement is called gallons per day, or GPD for short. As you may have already guessed, the larger the GPD, the more you'll pay for your system.
Hiring a technician is the best way to determine which size humidifier will be best for your home. They will fully assess your home, consider the many factors below, and can recommend the right steam humidifier to suit your needs.
Is your attic insulated?
Is your fireplace dampened?
Do you have storm windows and doors?
Are your storm windows and doors free from air leaks?
Have any leaks been weather-stripped or sealed?
Additional Features
Humidifiers today come with a host of additional features. Whether you want a basic system or a system with all the technical trimmings, the right system is out there.
Here are just some of the additional features you can choose from:
Digital displays. A digital display allows you to check the status of your system at all times. Some systems also show alerts on the display when it's time to arrange a tune-up.
Smart programming. Many of today's systems offer smart programming functionality. This feature allows you to pre-program your system to operate during set times. You can also set your humidifier to kick in automatically when humidity levels reach a certain level.
Stable memory. Systems with a stable memory function won't lose their programmed settings in the event of a power outage.
Contractor You Hire
Another factor to consider is the cost of installation. The typical cost for humidifier installation is $200-$400. Choosing the right contractor for the job will ensure your system is installed correctly and operates safely and efficiently.
You'll want a contractor with years of experience, an impressive selection of industry-leading systems, and who can also offer annual maintenance of your system going forward. Regularly maintaining your system will ensure it gives you many years of dependable performance.
Also, look out for contractors that offer a generous labor warranty after installation. The system will be covered for some time by a manufacturer's warranty. The labor warranty covers your system for any problems that arise from a sloppy installation.