You might wonder about ductless AC benefits if you're considering replacing your air conditioning system soon. These systems provide excellent cooling throughout your home, zoning capabilities, and could help you save on energy costs substantially. How does a 30% savings sound?
In this article, we'll explore the many benefits of ductless cooling systems and ultimately answer the question, are ductless AC units good? Here are just some of the benefits we'll be looking at:
If your existing HVAC system has seen better days and is struggling to keep up, upgrading to a ductless system could be wise. While the initial outlay may seem expensive, your savings over the years will more than make up for it.
No Energy Loss
Did you know that ducted systems can suffer from energy loss? While ductwork may be an effective way of delivering cooling throughout your home, air can escape through splits and gaps before reaching your vents. Why pay for cool air that you are not benefiting from? On the other hand, ductless cooling systems deliver chilled air directly into your living space without any energy loss. In fact, according to the Department of Energy, a ductless AC system could save you 30% on your energy consumption.
If you currently have a ducted system and are experiencing higher than usual energy costs, it could be down to your HVAC system and ductwork's condition. Old and inefficient ductwork means switching to a ductless AC makes sense.
Easy Installation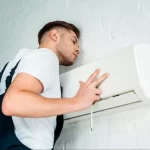 Ductwork can be tricky to repair and maintain. These complex systems live behind your walls, and it isn't so easy to fix a problem when it occurs. On the other hand, ductless systems are installed on the walls inside your home. Mini-split systems offer lots of flexibility in interior design and can be suspended from the ceiling, hung on a wall, or mounted flush into a drop ceiling. If you're worried about your ductless AC units ruining the aesthetic of your home, it's good to know you have plenty of options for unit placement.
Your AC technician will thoroughly inspect your home and recommend the best placement of your units. Good placement will ensure the same efficiency and comfort as a ducted system.
Controlled Temperature Zones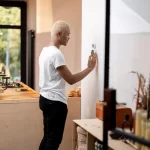 Ductless multi-zone systems offer zone-specific cooling throughout your home. Each zone has its own thermostat allowing you to set individual temperatures in every zone. This means you can easily adjust the temperature in your zone without affecting other people in your home — great if your family regularly bickers about it being too warm or cold.
Zoned systems also give you more control over your energy costs. Not using a particular zone during the day? You can switch off the cooling in that zone until you need it again. Why cool rooms if nobody is using them, right? Your AC technician can tell you more about the many benefits of ductless zones and how you can cool your home more effectively and efficiently.
Improved Air Quality
Over time, dust, debris, and contaminants can start to build up in ductwork which will eventually be released into your home environment. With a ductless system, on the other hand, cool air is distributed directly into the home without passing through any ducts. This can improve air quality throughout your home and help you and your family to avoid the health problems commonly associated with poor air quality.
You must arrange regular AC maintenance for your ductless system to ensure your air stays as fresh and clean as possible. Your HVAC company can help you with annual tune-ups that keep your system in the best condition.
Boost Your HVAC System
Ductless AC systems are one of the most efficient ways to cool your home. Consider a replacement if your existing central air system struggles to meet demand. Switching to a ductless HVAC system could be the best thing you do for your comfort and energy costs today. From reducing your energy consumption to giving you more control over your temperature, going ductless has many benefits.
If you are unsure whether your home is suitable for ductless HVAC installation, your HVAC technician will inspect your home and recommend the best system to suit your needs. They can advise on the best placement for your AC units and tell you more about the cost savings you can expect.