If you're ready to install a new air conditioning unit in your South Carolina home, you've got a big decision to make: ductless vs. ducted AC. Both have unique benefits and drawbacks, so knowing which will be the most effective for your home is important.
To help you make the decision, we've taken a look at many of the factors that may affect the installation, including:
How Do Ducted and Ductless ACs Work?
Ducted and ductless AC systems are a form of whole-home cooling but function very differently. Traditional ducted units, also called central ACs, are more common, but ductless options have significant advantages, particularly when adding cooling for the first time.
Ducted Air Conditioners
Ducted ACs condition air as it enters your home and circulates that cooled air through every room using ducts and vents. There's typically a central point of temperature control at a single thermostat, determining when the AC unit should turn on and how long it should run.
Ductless Air Conditioners
Ductless, mini-split ACs have two parts: an external condenser and interior air handlers. The indoor units provide cooling to specific spaces, allowing you greater control over the temperature in different areas. Most units support up to eight air handlers per exterior condenser.
If you have a large home and prefer a ducted AC, the need for existing infrastructure can impact the price. If you still need to get ductwork, price both options before deciding. Adding ductwork can be very expensive, depending on your home's layout.
Cost of Installation
Several installation considerations can affect the total cost of getting your cooling system up and running. Ultimately, getting an estimate for both options will give you a better idea of each type of unit's immediate and long-term costs.
Already Have Ductwork Installed?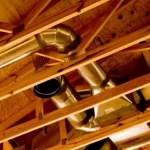 Determining installation cost and comparing ductless vs. ducted ACs depends on your current cooling system. Installing ducted AC units starts at around $5,500, but it can dramatically increase if you don't have ductwork already in place. Even if you have ductwork, it can add to the cost if it's in poor condition and needs maintenance.
If you already have ductwork installed, central AC systems are likely to be the most affordable option for installation costs.
If you don't already have ductwork, a ductless AC unit is more affordable, with a starting installation price of $5,000.
How Many Rooms Are You Cooling?
The number of rooms you need to be cooled has a direct impact on the price of installation. For example, if eight rooms need cooling, ductless ACs are likely more affordable since you'll only need one exterior unit to handle that load. So, the more internal air handlers you need, the more expensive it is to install a ductless cooling system.
While ductless air conditioners are often more energy-efficient and can deliver long-term savings, if you have a large home and need multiple exterior units, those savings may evaporate due to the increased initial installation costs.
Which Cooling System is Best in South Carolina?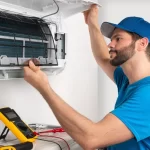 Both ductless and ducted AC systems can deliver effective cooling in South Carolina, but if you want affordable cooling for the long term, you might opt for ductless. Better energy efficiency means you can keep your home comfortable in the hot summers at a lower cost. With electricity prices rising and unlikely to come down any time soon, it's important to get a unit that offers the best long-term value.
What Is Your Maintenance Budget?
Part of determining value and potential savings means looking at expected maintenance costs. In general, ductless AC systems are lower maintenance than ducted alternatives. With a ductless unit, you can expect reliable running for longer, helping you save after installation.
Other Preferences to Consider
When the cost isn't your main consideration, you'll want to look at visual appeal and comfort. Because ductless ACs use air handlers installed in each room to provide space cooling, you can't make it hidden. Air handlers mount directly on your walls and in plain view. If you don't like how they look, it might mean you'd prefer a central AC option with discrete vents to cool and heat your home.
Where ductless systems truly excel is in home comfort. Putting an air handler in each room also puts a thermostat in every room and offers direct temperature controls for that space. If you like to sleep in the arctic and your kids prefer a balmy nighttime environment, you can both enjoy your desired temperatures with a ductless AC system.
You can add zoned temperature controls to a ducted system, which often increases the installation cost substantially. What ductless units already do is a costly add-on with central cooling.
---