When temperatures rise, you may ask yourself, "Why does my AC take so long to cool the house?" The short answer to this question is that there are multiple reasons that the unit may be ineffective at cooling your home. In this article, you can learn the most common reasons why AC systems fail to properly cool your home and how to address the following issues when they arise:
Old or Undersized AC System
If you have issues cooling your entire home, an old or undersized air conditioning unit may be the culprit.
As air conditioning units age, they may experience reduced airflow due to clogged filters or ductwork leaks, resulting in less cool air distributed throughout the home. Additionally, older ACs can experience a decline in efficiency and an increase in energy consumption due to the effects of wear and tear over time. These factors can contribute to longer cooling times or insufficient cooling, leading to discomfort and increased energy costs.
Likewise, undersized AC systems for the home's square footage can create a similar issue since they must work harder to keep spaces comfortable and at a consistent temperature. Hotter summer days may even overheat the motor of these undersized units, causing the coils to freeze and shut down the unit completely.
If your home has an AC system over 15 years old or you suspect that your unit doesn't have the power necessary to cool your entire home consistently, contact Elite Air & Heat for advice you can trust. Our hard-working technicians don't hesitate to point out ways you can improve home comfort and decrease energy bills.
Clogged Air Filter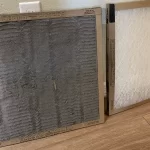 A clogged air filter can cause numerous issues with your AC system, including turning the unit on and off more frequently than it should. This cooling issue, called short cycling, can potentially wreak havoc on your AC system and drive up energy costs. Likewise, a clogged air filter may not let cold air through at all, and when it does, that airflow typically isn't filtered well, which may leave allergens to the detriment of indoor air quality.
Refrigerant Leak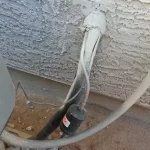 One of the most important parts of your AC system, refrigerant is a blend of chemicals called Freon that cycles through your unit, and it's usually in R-22 or R-410a form, with the former being phased out in favor of the latter due to eco-friendliness issues. While it passes through, it transforms from liquid to gas by absorbing and releasing the heat it collects from the air in your home. Time, heavy use, and line sets can lead to loss of refrigerant.
If you notice cracks or holes in your line sets or hear a slight hissing sound coming from the line sets, you may have a refrigerant leak. Aside from decreased efficiency that leads to higher cooling costs, this problem may also lead to environmental damage and personal health issues that:
Affect your respiratory system
Cause headaches and nausea
Irritate the skin and eyes
Spur confusion and mental fatigue
If you suspect your AC unit is leaking refrigerant, Elite Heat & Air can provide a fast, free, and honest estimate with upfront costs whether you need us to recharge the Freon refrigerant in your unit, repair the line set or replace your AC system altogether.
Dirty Coils
Dirty coils are one of the main reasons behind inefficient cooling, especially when lots of grime accumulates and causes them to freeze. These frozen coils, in turn, create a buildup that obstructs functionality and may even damage the fins and coil itself. Even if the coils don't freeze over, excess water dripping from dirty coils may mix with dirt in the condensation pan to clog up your system. Symptoms of this issue include high humidity levels and moldy odors.
You can typically see when the coils on your AC system are dirty with a quick visual inspection. Still, there are other signs, including longer cycling times, higher electricity bills, and air pressure loss. Fortunately, regular maintenance and cleaning can prevent dirty coils from becoming a problem.
Leaky Ductwork
If you're experiencing hot or cold spots in your home, your ductwork may be leaking and causing uneven cooling. In addition to impeding airflow to certain areas, leaky ductwork lets dust and other particulates inside, further limiting airflow and clogging up your air filter. Aside from hot and cold spots, other signs of leaky ductwork include:
More visible dust within your home
Pests entering openings in the ductwork
Increased humidity and mold spores
Frequent need for air filter replacement
Issues with indoor air quality
Lack of AC Maintenance
Aside from one-off mechanical issues, the lack of AC maintenance is typically the main driver behind the need for unit repairs. Regular maintenance of your AC unit, like what you get with the Elite Air & Heat maintenance plan, helps you ward off more significant problems, saving you money in the long term.
Benefits of AC Maintenance
Besides decreased costs in the long run, there are numerous benefits to regular AC maintenance. These benefits include:
Improved air quality
Lower cooling expenses
Fewer repairs and replacements
Better summer reliability
Longer unit lifespan