Feeling the chill in your home on a cold winter day can be uncomfortable and send you running to check the furnace to make sure it's working as it should. If you find your furnace is blowing cold air, it's time to address the issue quickly to get your temperature back to where it should be for your comfort.
Several issues could be at play if your furnace is blowing cold air, including:
Some are easy fixes that you can do on your own. For the rest, the professionals at Elite Air & Heat are available to handle all your furnace repair and tune-up needs. We'll review each issue below and explain when to call in the professionals.
Wrong Thermostat Settings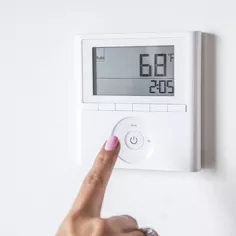 An incorrectly set thermostat is the simplest explanation for a furnace blowing cold air. The thermostat tells your furnace what it needs to do to reach the temperature that has been set. Aside from accidentally setting the temperature too low, you should rule out two possibilities.
The thermostat is set to cool. This setting takes the furnace offline and initiates the air conditioner. If this is accidentally changed, it leads to cool air running through your vents instead of heat.
The thermostat fan is set to ON. You should set your thermostat to AUTO to allow it to shut down properly between heating cycles. When the fan control is in the ON position, it continuously blows even when the system generates no heat. Cooler air then circulates, reducing your interior temperature and making your furnace work harder to keep you comfortable.
If these settings are correct and your furnace is still blowing cold, it's time to call Elite Air & Heat to help. If the thermostat is malfunctioning or was installed near a heat source, it needs to be replaced or moved.
Furnace Is Overheating
An overheating furnace will also result in cool air coming from your vents. The most likely cause for this is a clogged air filter. Heating systems need air to circulate freely to keep their critical components cool. When this airflow is blocked, these parts begin to overheat, and the furnace will shut down to prevent damage.
You can check the filter yourself or call in one of our experts to address the issue and get you running again. Enrolling in a furnace maintenance plan will ensure regular unit checks and air filter replacements before critical problems arise.
Condensate Line Is Clogged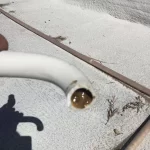 The condensate line removes condensation due to temperature fluctuations away from the furnace. If this becomes clogged, the interior of your unit collects the water, which can cause it to malfunction.
Clogs can come from a frozen line when it's cold or the collection of debris in the system. This issue is best handled by requesting a furnace repair service. An Elite Air & Heat technician can clear the line of any clogs, sanitize the line if there is evidence of algae, and assess your furnace to ensure it has no damage.
Leaky Ductwork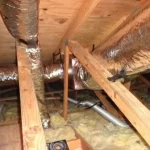 Leaks in ductwork often occur in the joint areas where improper installation or normal wear and tear has created gaps in the system. These gaps allow heat to escape before it reaches your vents, resulting in cooler air blowing into your home. Closing all gaps offers you peace of mind that all your heated air is reaching your vents to keep your family warm instead of draining your wallet.
It may seem like sealing a leak is an easy job to do yourself, but ductwork can be complex and is often hidden away, making it difficult to identify the source of the leak. A professional Elite Air & Heat technician can run diagnostic tests on your system to confirm the presence of a leak, pinpoint the hole or gap, and repair the ductwork to ensure a proper seal.
When to Call a Professional
It's easy to fix your thermostat settings if they cause your furnace to blow cold air. However, other issues need a professional's trained eye in order to check for other problems that may be looming. Furthermore, professional work better guarantees a correct repair.
Prevention is the best protection for your furnace investment, so scheduling regular maintenance will increase the lifespan of your unit and ensure it properly works when you need it most. Staying on top of minor furnace repairs, keeping filters and hoses clear, and maintaining a well-sealed ductwork system will prevent your furnace from overworking to maintain your preferred temperature, reducing wear and tear to normal levels.
---